Hazard Mitigation Grant Program Funds Available to the Commonwealth
RICHMOND — The Virginia Department of Emergency Management is pleased to announce a grant funded program that will reduce the long-term risks to individuals and property through the Hazard Mitigation Grant Program (HMGP).  These funds will be available for the Commonwealth through the Federal Emergency Management Agency (FEMA) as a result of two Presidential Disasters from damages associated with Hurricane Florence and Tropical Storm Michael. 
As a part of the HMGP outreach effort, seven applicant briefings will take place across the Commonwealth in February and March.  Briefings will discuss state priorities, eligible activities, application process, cost share and timelines.  In addition, the briefings will a give localities and agencies additional information on future Pre-Disaster Mitigation funding, which is expected to increase significantly in 2019 due to the Disaster Reform and Recovery Act.  
Applications will be due May 30, 2019. Representatives from the following organizations are encouraged to attend one of the briefings:
o   Local Land Use Planners
o   Local and State Floodplain Managers
o   Local Public Works, Utilities
o   Local and State Agency Engineers
o   Local and State Agency Building Officials
o   Local and State Agency Emergency Managers
o   Planning District Commission Planners
o   Grant writers and managers
For more information on these funding opportunities please visit VDEM's website or contact your regional grant administrator or Robbie Coates, State Hazard Mitigation Officer at 804-897-9766.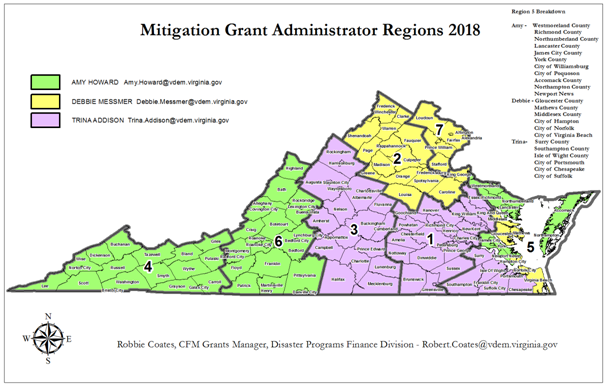 VDEM works with local government, state and federal agencies and voluntary organizations to provide resources and expertise through the five mission areas of emergency management; prevention, protection, mitigation, response and recovery. To learn more about ways VDEM is working to improve disaster preparedness, response and recovery, visit www.vaemergency.gov.